This post is for you men out there who think that kids are a ball-and-chain holding you back from the life of adventure you are dreaming about. Here are a few statistics that you may not know about:
The youngest child to hike the Pacific Creat Trail (PCT) was 10 years old in 2004. The PCT is a 2650 mile long trail that runs along the West Coast of the United States, starting in Mexico and ending in Canada. To learn more about the PCT, check out the Wikipedia page. To read more details about this 10 year olds journey, check out this website.
The youngest child to thru-hike the Appalachian Trail (AT) was a 6-year-old boy who completed a flip-flop with his parents in 1980. In 2002, another 6-year-old boy completed a flip-flop thru-hike with his parents and 8-year-old sister. The AT is a 2175 mile trail which starts in on Springer Mountain in Georgia and ends at the peak of Mount Kahatadin in Maine. To learn more about the AT, check out the Wikipedia page. To read about other noteworthy AT hikers, check out the AT website.
The youngest person to solo thru-hike (i.e. without parents) the AT was 15 in 1995.
Jordan Romero has a goal to be the youngest to climb the 7 summits - the highest peaks on each of the seven continents. He is currently 12 years old and so far he has completed 5. To read more about Jordans adventures, check out his website.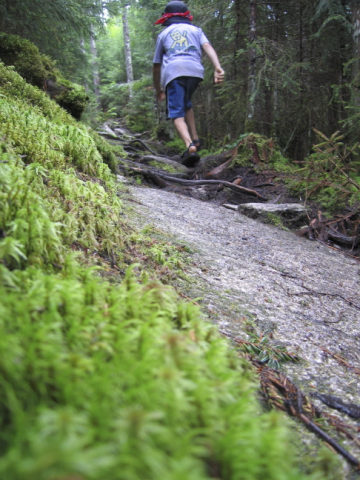 Don't wait until your child's 16th birthday, and then try to coax them to join you on some big adventure.
Start the adventure now, when they are young, as soon as you can. Sure, you may only be able to walk a mile in a local park, but you have to start somewhere. Think long-term, this is a life-long relationship you are building, so make sure it has a solid foundation - built on love, trust, patience, fun, and friendship. In no-time the kids will be on-board for practically any crazy adventure you can imagine. Before you know it, you will be the one struggling to keep-up.