For the last few weeks I have been in sewing mode and loving every minute of it. According to Renee, she wouldn't have thought I liked it so much based on all the mutterings she hears emanating from the sewing room. I guess I am rather vocal when I hit a little snag. Despite the small frustrations that happen along the way (an integral part to the learning process), I find sewing to be incredibly satisfying. It is the combination of art/creativity, engineering, math, and precision that I like so much, not to mention the fact that the end result is something that is necessary and useful.
Being a computer programmer by trade, much of what I do on a daily basis is both foreign and unseen by most people. I like to think of software engineering as poetry - it is a very creative process for me. The problem is that the art of software engineering is often unseen and not understood by the majority of people. My family largely has no idea what exactly it is I do to pay the bills. I am finding that sewing is a way for me to express myself in a way that is visible, appreciated, and understood by my family and others around me. Not to mention the fact that there are many practical reasons for learning to sew as well.
My three most recent projects are:
A Winter Coat for Celine: A few months ago Celine saw a pattern for a coat that she really liked. The pattern was relatively simple and could be made out of fleece so she decided that she wanted to try to make it (with my help). We ordered the pattern and the fabric and soon discovered that it was too much for her to handle so I offered to finish it for her (much to her relief). I learned a lot through the process and I am very happy with how it turned out. Celine loves it, it is now her favorite coat.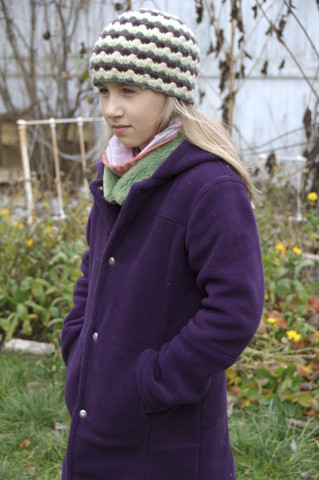 A Pair of Yoga Pants for Renee: We like to keep the heat turned down during the winter months to conserve energy and minimize the bills. We compensate by putting on a few extra layers of clothing. Renee's biggest beef with this is that wearing extra layers usually means her having to wear clothes that are less figure-flattering. One solution I decided to try was to make her a pair of slim-fitting pants out of a thermal fabric. I found a pattern for some yoga pants and decided to try making them out of Polartec Wind Pro, a very warm, stretchy, and wind-resistant fabric. The end result was again very good.
A Soft-Shell Jacket for Laurent: The boy is growing-up. A few weeks ago he put on his fleece jacket and what was once big and baggy on him (wasn't that just yesterday?) is now too small. A staple for our fall/winter hiking is a soft-shell jacket. It is difficult to find anything like this for kids, so I decided to try my hand at making one for him. I found a pattern for a hooded fleece jacket, ordered some Polartec Power Shield fabric and gave it a shot. Again, the result was very successful (this is getting addicting!).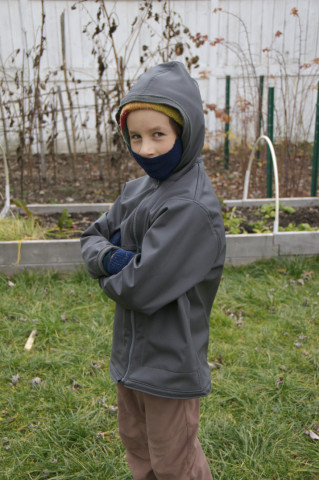 Are you getting inspired yet? Looking for a new project?
Time for a Giveaway!
It so happens that in my frenzy of online ordering, I accidentally purchased a pattern twice. Rather than send it back, I have decided to give away the extra pattern to one of you. The pattern is for The Green Pepper Sandpiper Wind & Rain Suit for kids (the same pattern I used for Brienne's windbreaker). All you have to do is leave a comment and you will automatically be entered in the draw. The draw will be made in one week, on Sunday December 13th, and the winner's name announced at the end of this post. Good luck!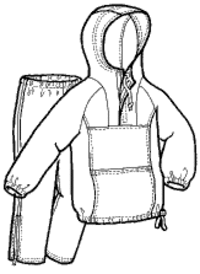 Update (12/14/2009): I just wanted to post a note of congratulations to Jim White, the winner of the pattern giveaway! Good luck with your sewing adventures, and I hope you will share the results of your projects with us one day! Thanks to all the rest of you who participated. Please continue to check back with the blog, we have more great post ideas as well as some additional giveaways planned for the new year.