Over the past year I have been spending a lot of time searching for the "ideal" family backcountry shelter. My requirements were as follows:
It has to be able to sleep 5 people. We do not want to use two separate tents.
It has to be light enough for backpacking. 2 lbs per person or less.
It has to have a floor and bug protection.
It has to have a vestibule.
It needs to be designed such that it can be setup in a rain storm without soaking the inner sleeping area.
Although not strictly a requirement, it would be really nice if it was 4-season capable.
All of those requirements can be met by several manufacturers if you are looking for a shelter that sleeps four. As soon as you add the fifth person, the number of qualified shelters diminishes to almost zero. As a result, I was forced to get a little creative.
Earlier this year, Golite introduced their Shagri-la series of shelters which range from the Shagri-la 1 which sleeps one all the way up to the Shangri-la 8+ which sleeps eight to twelve. These shelters are designed as floorless, single-wall, tepee-style tents (with one or two poles up the middle), sturdy enough for four-season use. As an accessory they also offer the Shagri-la nest, an inner tent made of lightweight mesh and a sealed bathtub floor to keep out the bugs and water.
The Shangri-la 4+ (and it's associated nest) is designed to sleep four to five people and easily meets all of the requirements but one: it does not have a vestibule. After doing a little research and calling Golite to get actual tent measurements, I theorized that the Shangri-la 4+ nest (a one-pole structure) should be able to fit under one end of the Shangri-la 6+ shelter (a two-pole structure). What this means is that in theory it should be possible to construct a lightweight tepee-style shelter with bug protection that sleeps five AND has a vestibule.
couple of weeks ago I decided to take the plunge and make the purchase, hoping that I had done all of my math right. The tent arrived this last Wednesday and I set it up in my yard. Needless to say I was not disappointed!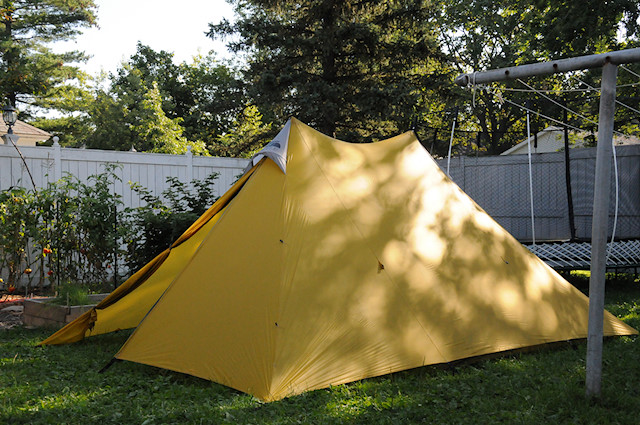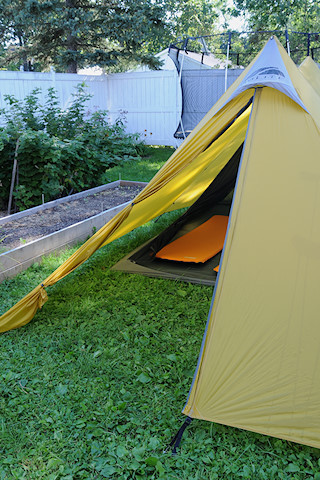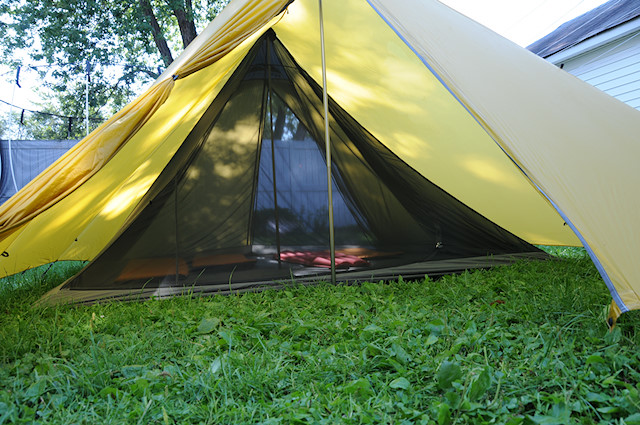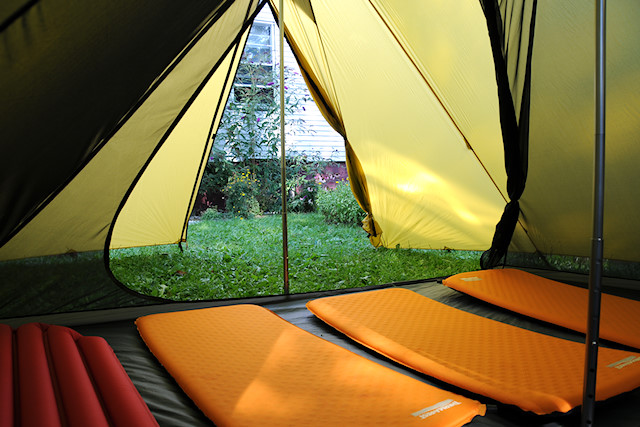 The vestibule area ends up being nice and big with room enough to store lots of gear for 5 people and for cooking in foul weather. In terms of weight, I used my kitchen scale to weigh everything (it only measures to the nearest 1/4 oz):
3 lb 3-1/4 oz for the Shangri-la 6+ shelter (and stuffsack).
3 lb 13-1/2 oz for the Shangri-la 4+ nest (and stuffsack).
14-1/2 oz for each pole (for a total of 1 lb 13 oz).
5-14 oz for 10 GoLite Y-stakes (and stuffsack).
The total weight for the entire package comes in at just over 9.5 lbs, exactly where I was hoping to be! In terms of the back-yard test and whether or not it meets our initial specifications, I would say it has passed with flying colors. How it ends up performing in the field will be a story for another day (once we actually have started to use it).