Having some adventure in your family life is more than just going on big trips. It's the little everyday activities you do as well. We have found that these shorter outings can be a lot of fun and also contribute significantly to the preparation for larger trips. The big question that comes up when you have a free afternoon (or a couple of hours) to be outdoors with the family is - what to do?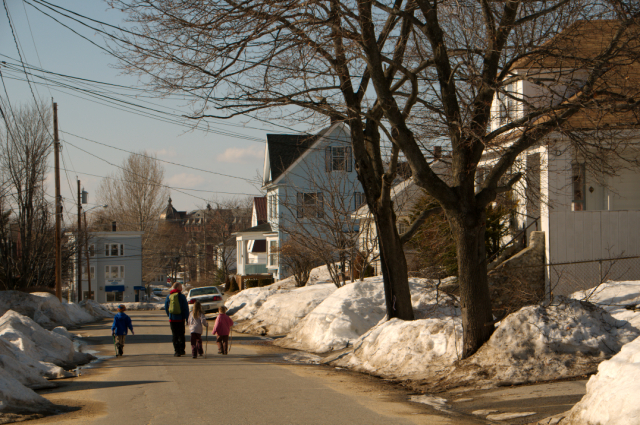 Simple walking is great family activity. It builds fitness, together time, and often can be the catalyst for great conversations and learning opportunities. It is my opinion that walking should be used as the foundation for an active, outdoor-oriented lifestyle. Here are some thoughts on the subject, in no particular order:
Start small and work your way up. In no time you will be surprising yourself with how much distance you can cover in a relatively short period of time.
Run errands on foot. For those of you who are goal-oriented, it may be easier to get out and walk when you know you have someplace to go.
Kids love to get out and walk, it's great fun for them - even though they might not always realize it. When lethargy sets in, sometimes it can be hard to get them out the door. Once you are out, everything changes. Spirits are lifted, they start to run, laugh, play, and almost always have a great time irregardless of the destination. Before you know it they will have enough capacity to do extended trips up hills and mountains.
Think of walking as training. Use it to fine tune your skills: learning the correct clothing, footwear, and food to bring is something that requires practice. Using these opportunities to build fitness and learn more about being in the outdoors will make it easier to do bigger and better things.
Learn to live with all weather conditions - better yet, learn to enjoy it! Get used to your all-weather gear in an environment where it is safe, rather than when you are on the trail somewhere and it really matters. Some of the best walks the kids and I have had were in the middle of a blizzard walking to the video store to get a movie. It took longer and was more difficult but the kids loved the challenge and still talk about it months later.
Pack a lunch and go eat it somewhere, this is a great way to test trail food.
Look-up your city/town/neighborhood on Google Maps, pick a green area that you are not familiar with and go exploring. You never know what you might find. We are often surprised with the trails we discover right in our own backyard that can't be found in any guide book.