If you aren't into backpacking, but are interested in spending more time in the outdoors and don't really no where to begin, this is our gear list for day hiking in the summer (we have a list for each season). If you plan to head out for only a few hours then this might be overkill, but it is a good place to start. This list is everything we need to be in the outdoors for the entire day. It is also the foundation for our backpacking list.
The night before our hike, we have the kids pack their gear and make their snacks. The process is pretty hands-off now, they are used to the drill, which makes getting out the door a lot smoother than it used to. To make the list easir for the kids digest, we broke it up by parts of the body; from head-to-toe, from inside-to-outside.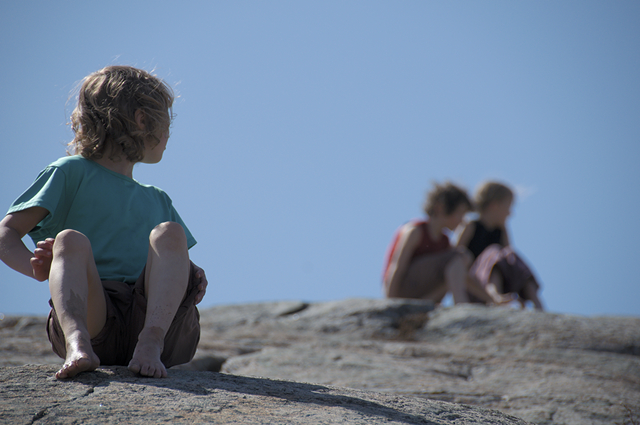 Unless otherwise noted, all clothing items in this checklist are made out of quick-drying fabrics like nylon, polyester, or merino wool. We avoid cotton for all of our outdoor clothing.
Head
Sun hat: A hat with a stiff brim is important for both shielding the sun from your eyes and keeping the bug net off your face. Please see this comment at the bottom of this post for more information on what brands we've experienced and recommend.
Bug net: Much more effective than bug repellent, we always pack these in the summer.
(Optional) Sun glasses: If we are going to be hiking in wide-open areas, above treeline, or near the water we bring them.
(Optional) Buff: A buff is a super handy item to have on hand. My son likes to use his as a hat. My girls like to use them to manage their hair. They can also be used as a bandana to keep the sun off your face, as neck warmer, as a towel... the possibilities are endless.
Torso
Undershirt and/or t-shirt: All of our kids have close-fitting sleeveless shirts, and they love them. Renee and myself prefer lightweight baselayer t-shirts. Some of our kids also bring a lightweight t-shirt in addition to their sleevless shirt. See this post on underwear for more recommendations.
Long undershirt or lightweight fleece hoodie: We always bring a warmer layer no matter what the weather. If things get cooler especially near the evening, having a little extra insulation is helpful.
Wind breaker: Also known as a windshirt, these are absolutely essential. The lighter weight the better, as you want it to be very breathable. Besides keeping the wind off, they can be used to keep the bugs and sun off as well.
(Optional) Rain jacket and/or umbrella: If the weather forecast is for rain, we will pack a waterproof/breathable rain jacket. In addition to the rain jacket, some of us will pack a lightweight umbrella too. Umbrellas are great because they don't get hot and sticky like in a rain jacket. The downside to an umbrella is that they don't handle the wind well.
Legs
Underwear: Underwear that can double as a bathing suit is very handy for kids.
Hiking pants: We always bring long pants. They keep the wind, the sun, and the bugs, and the thorns off our legs.
(Optional) Shorts/skirt/skort: If someone wants to bring one of these items, we let them as long as they also have long pants. Convertible pants that zip-off into shorts are a great option.
Feet
Thin wicking socks: Thin is important as you want them to dry quickly, not be too hot, and not absorb too much water in the rain.
Minimalist footwear: Of course!
Other Gear
Lunch
Snacks
Water
First aid kit (includes fire starter and water treatment tablets)
Toilet paper and potty trowel
Bug repellent
Sunscreen
Camera
(Optional) Towel