Note: I recently launched a new minimalist community site called Toe Salad. It includes a comprehensive directory of minimalist footwear products, as well as user reviews and forums. I encourage you to check-it-out, it includes a lot of great information that can't be found anywhere else.
My friend Spring sent me this message the other day, and I thought it would be a good topic for a blog post.
Cold Feet
So, as we set our goal to make this our most active/outdoor winter ever, I am worried about my poor circulation and cold feet. Any suggestions, for warm feet especially? Or under-layers, etc? I don't want our goal to fail because I was too cold to do it!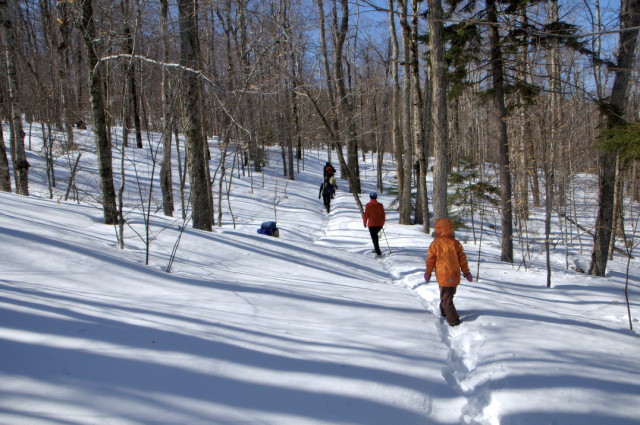 My Response
That's a great question. And no doubt cold feet will thwart winter outdoor activity. I have several suggestions for you that can help to keep your feet warm.
For your feet:
Get a really good pair of warm socks. Something like Smartwool heavy/expedition weight, or Darn Tough Vermont boot socks. Make sure they come up to just below the knee, completely covering the calf. They may be somewhat pricey, but they will be really comfy and warm. Make sure they are not too tight as to restrict circulation.
Underneath those warm socks, wear a thin polyester or polypro liner sock. This will help wick away moisture, keep your feet dry, and eliminate any itch you might feel from the thick wool sock. Again, make sure the liner is not tight.
Make sure that whatever footwear you have on (shoes, skates, etc.), it is not tight or restrictive. This will cut circulation and contribute to your feet getting cold. You may have to size-up if you are wearing thick socks.
For your legs:
Keep your legs nice and warm. By keeping your legs warm, the blood circulating to your feet will be warm too.
Don't wear cotton, especially against your skin, it will make you cold as soon as it gets damp. If you are wearing long underwear make sure it is polyester or wool. A couple of my favorite places to get deals on long underwear is the Sierra Trading Post, the Patagonia Freeport Outlet, or the Patagonia online store (check the web specials section).
Whatever insulation you wear on your legs, make sure it isn't baggy. The looser fitting it is, the harder it will be for your body to heat up the space.
Nutrition:
Make sure you are hydrated. Dehydration easily leads to getting cold.
Make sure you aren't hungry. Insufficient calories can also lead to you getting cold.
Anything else?
I just covered the basics, there are many more things that could be discussed depending on the activity and temperatures encountered (i.e. thermal insoles, overboots, etc.). Does anyone else have anything that they would like to add? Please let me know in the comments!