How do you keep clean in the backcountry? My wife (Renee) has been making all of our own soap now for the past year-and-a-half. She has recipes for everything from hand soap, to laundry soap, to dishwasher soap, and everything else in-between. We originally started this venture due to the fact that I have very sensitive skin and we were also getting concerned about all of the chemicals that are being put in beauty products these days. It turns out that homemade soap actually has quite a lot going for it: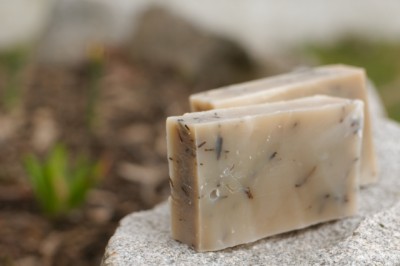 Made with natural ingredients: There are no dyes, artificial fragrances and colors, or toxins with unknown long-term harmful effects. The only known long-term effect of using natural soap is cleanliness!
Safer for the enviornment: Biodegradable. Less packaging. No detergents, chemicals, or other nasties that cause fish to birth young with three heads. You should still be responsible when disposing of your suds in the backcountry however, making sure to keep our water sources as clean as possible.
Effective: We have a friend who is a mechanic. He says that he has never found a soap that get's his hands cleaner that the homemade bar we gave him. Our experience has shown that natural soap is more effective at eliminating body-odor than commercial soaps with strong perfumes.
Multi-purpose: Use it to wash your body, your hair, your dishes, or your clothes. You could even brush your teeth with it if you can put up with a soapy taste in your mouth.
Locally made: Support local businesses. You can always find locally-made homemade soap. Better yet, if you are crafty, you can learn to make it yourself.
Free: You can get it for free. Actually, normally it costs money, but not if you are one of the lucky ones this week. I have two bars of our Winter Woods flavor (don't try eating it though) homemade soap to give away so you can try it yourself. All you have to do is leave a comment on this post before the end of the day on Sunday April 12th. I will make the drawing for the winners next week. Tell all your friends... or maybe on second thought, that would reduce your chances of winning... oh well, do whatever you want.
Update: And the winners are... Robert and Pamela! Congratulations! I just sent you an email message asking for your mailing address, if for some reason you didn't get it, please get ahold of us using the Contact page. Enjoy!