The design of this recipe was the result of some serious thinking on my part as to how we could meet a bunch of requirements for our winter outdoor lunch:
The food has to be hot. Eating hot food on a cold day can make all the difference between miserable and satisfying.
The meal has to be quick to prepare, both at home and on the trail. We don't want to spend a lot of time with preparation the night before and nobody wants to stand around long in the cold waiting for their food to be ready once on the trail.
The meal needs to promote hydration. We have found that it is easy to not consume enough liquids when exerting ourselves in cold weather. In the cold, we just don't drink as much or as often as we do in warmer weather.
The food needs to be energizing, delicious, and nutritious. Having food on the trail that everyone looks forward to is a huge benefit to family morale. Because this recipe is made with green tea, the extra kick really helps to perk people up for the afternoon.
This recipe has turned out to be a home run in our house. Everyone in the family now looks forward to our winter trips just to be able to eat this meal. The bonus for me is that I can have lunch prepared and packed for our family of five in about 15 minutes.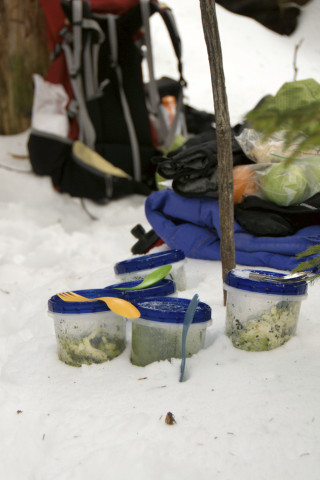 Gear Requirements
A backpacking stove, suitable for cold weather use in the conditions you will be out in. We currently use an MSR WindPro stove with the canister inverted.
A light-weight pot, big enough to boil about 1.5 cups of water per person. We have a GSI Halulite 2L Boiler.
A light-wight plastic food storage container (with lid) for each person, big enough to hold 3 - 4 cups. We've found Ziploc 4 cup storage containers with screw-top lids work great for this purpose.
A spoon/fork/spork per person. We like our color coded (one for each person) sporks.
A water container/bladder for carrying enough water to prepare the meal (about 1.5 cups per person). Our's is a MSR DromLite bag.
Ingredients
Cooked brown rice, 1 cup per person
Cooked beans, 1 cup per person (any bean will do, shelled edemame is absolutely delicious, tofu cubes work good as well)
Shredded carrots or cabbage or both, 1/4 cup per person
Dried nori, approximately 1/2 a sheet per person, cut into small strips
Miso paste, 1 teaspoon per person
Soy sauce, 1 teaspoon per person
Furikake, any flavor (optional), sprinkled to taste
Sesame seeds, 1 teaspoon per person
Japanese matcha or sencha green tea powder, or 1 green tea bag per person.
Preparation At Home
In each person's storage container, add all of the above ingredients in the amounts specifed except the green tea. If you are using green tea powder, add 1/2 a teaspoon of powder to each container. Close the lids firmly. If you are using tea bags, put all of the tea bags in a separate Ziploc bag.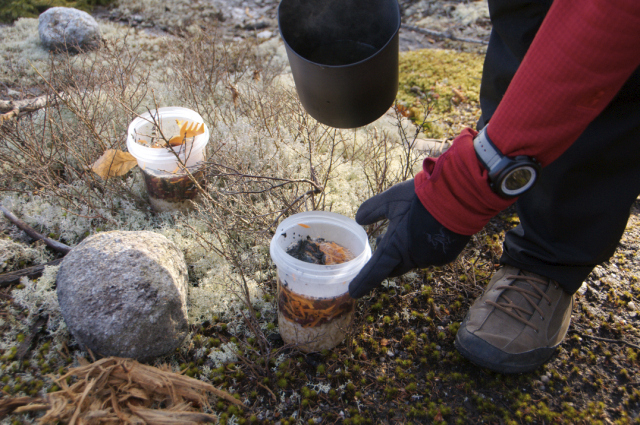 Preparation on the Trail
Boil a pot of water, enough to prepare 1.5 cups per person.
If you are using tea bags: once the water has boiled, add all of the tea bags and make a large pot of green tea.
Open the containers of food and add hot water (or prepared green tea if using tea bags) to each one. Stir well, making sure all of the miso paste is mixed thoroughly.
Enjoy!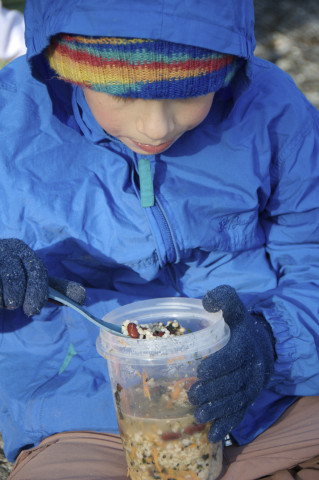 Notes
The standard recipe size is good for an adult, but may be too much for a child depending on how old they are and how well they can pack-it-in. You may have to adjust as appropriate.
This meal can be super-easy to prepare if you have the cooked rice and beans on-hand. We always make a little extra a couple of days before the weekend so that we are well prepared.
Green tea rice is a traditional japanese meal. It is typically made with white sticky rice, green tea, and furikake. This version has been spruced-up a little to make it more nutritious and add additional calories.