I have had tents on the brain quite a a bit lately, especially in light of our last backpacking trip. I thought it coincidental then that Ryan Jordan posted his thoughts on what he thinks is a good group shelter, the GoLite Shangri-La 6/8. It so happens that we have one of those too, however while I like it a lot, I am finding my satisfaction waning. Am I just not seasoned enough in the backcountry to fully appreciate its greatness, or is there something else to it?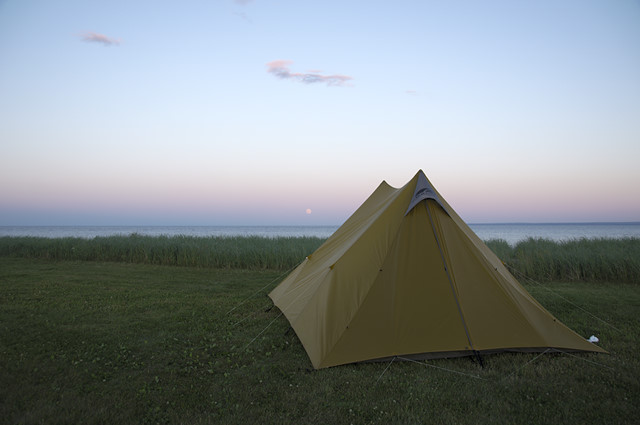 I was thinking back to when we lived in Alberta, and the terrain and climate of the Rockies. The air was generally pretty dry, and the nights could get fairly chilly. Although there were trees, there were also many exposed places, including those above-treeline where the storms could get intense/nasty/windy. The main bug we had to contend with was the mosquito.
Thinking about that context, I see how a floorless shelter like the Shangri-La would be quite ideal. You stake it to the ground, kill the mosquitoes, and away you go. The heavier-weight silnylon fabric, the sturdy poles, and guy-line tie out points make it a very mountain worthy shelter for a larger group.
Then I thought about our current playground, the east coast. Here in Maine the air is generally humid, and the summer nights can be quite warm. The land is mostly dense forest everywhere, with the (infrequent) open areas being on the rocky peaks of mountains (there is a reason the AT is sometimes referred to as the Green Tunnel). There can be a lot of rain, but wind is less of an issue due to all of the trees. The bugs we have to contend with are mosquitoes, blackflies, and ticks. While living in Alberta I had heard of blackflies and never knew what a tick or Lyme disease was until we moved East.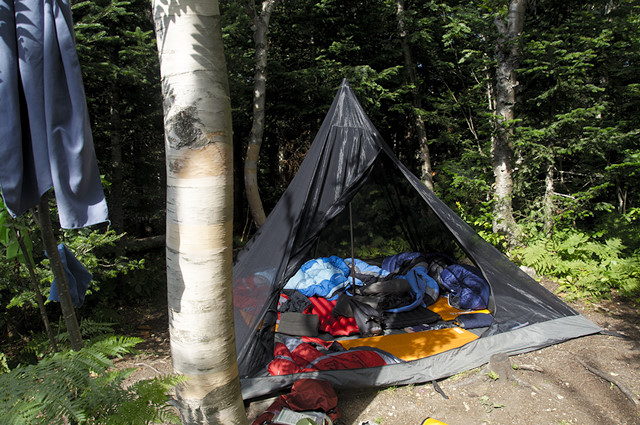 Our current shelter configuration consists of a Shangri-La 6 with a Shangri-La 4 Nest underneath. It's actually a pretty cool combination that allows us to have full protection from the ticks and flying bugs, a decent sized vestibule, and the ability to open up the doors at either end for good ventilation (even in the rain to keep the humidity down). The downsides to this setup are the weight (10 lbs = 2 lbs per person), and the fact that there is NEVER (OK, rarely) a good backcountry location to set up a tent of this size.
Considering the density of trees where we are, sizable clearings are hard to come-by. When we do find one, it is guaranteed to have huge roots, rocks, or fixed objects sticking up into the bathtub floor - there is just no way to avoid it considering the Nest covers over 90 square feet. Proper site preparation for keeping the floor protected from puncture would require bringing some form of excavator. It is only a matter of time before the floor will be riddled with holes; no matter how gently I tell the kids to tread.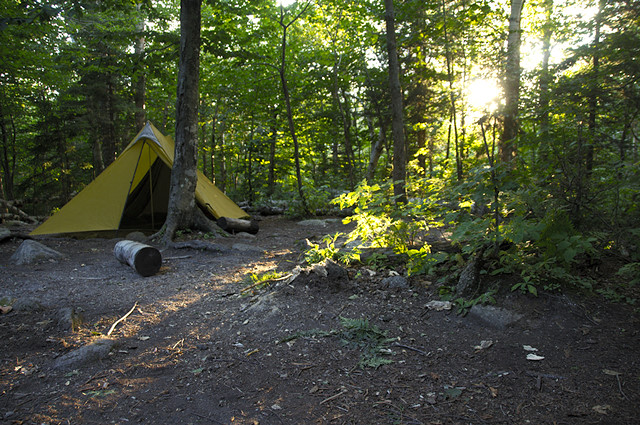 I have been thinking through some possible solutions:
Use multiple tents: This would certainly open up our available options for selecting a tent, as most manufacturers top-out their light-weight tent capacities at 4 people (we need 5). This would also make it easier to find suitable tent sites because we wouldn't need such a big area to setup on. On the flipside, this is not ideal from a togetherness standpoint. I like it when we are together under one roof, and I like being able to reach over and help out a child if they wake-up in the night with some sort of issue.
Have a custom-made, lighter-weight bug shelter made: This option could certainly save some weight (but probably not more than 1.5 lbs). The downside would be that we would still have the issue of site selection, and the lighter-weight materials would probably make the floor even more prone to holes.
Go floorless: This would certainly allow us to save a lot of weight; using our Shangri-La 6 without the nest would shave off over 3 lbs.  This would also give us more options for selecting a lighter-weight shelter by going with a single-poled pyramid/tipi styled design from a company like Oware, Titanium Goat, or Kifaru. Site selection would be much less of an issue because we woudn't have to worry about puncturing a floor. It wouldn't really matter what the ground was like and we could even setup over small shrubs if we needed to. The downside of course we be that this would afford us little protection from bugs because we keep the door open for ventilation, and even if we did close the door we still wouldn't be protected from ticks.
Go floorless with light-weight bivy sacks: From a weight standpoint, using the Shangri-La 6 with bivy sacks would save us about 1.25 lbs. Using a single pole tipi-style shelter as described above could save more. Since bivy sacks would be carried by everyone, the shelter weight would be more evenly distributed in our packs. One downside of this configuration is the cost: 5 bivy sacks cost a lot more than a single bug nest. Another is the added complexity for the kids. The upside is that the bivys could also be used without the tent when sleeping in shelters along the AT during bug season.
Lighter poles: The poles for the Shangri-La 6 weigh about 14 oz each, that is almost 2 pounds in poles alone. For strength, you really don't want to go with anything lighter as it would most certainly be too weak for a shelter of that size. The best bet to save pole weight would be to try to find a single-pole shelter instead. Perhaps some sort of hooped/tunnel design may work as well (i.e. Hilleberg, Warmlite, Integral Designs, etc.), but that would require more investigation.
Use a tarp: This certainly would solve the ventilation problem, but I have no experience with using group-sized ones. Anyone have any insight on that?
Other options? I am open for ideas! If you have any, please share!
So where does this leave us? I am not sure.
At the moment I am leaning towards a light-weight pyramid shelter with bivy sacks as it seems (in theory) to solve most of the problems for the least amount of weight. I am open to change however, and will be spending some time exploring the possibilities over the coming year to see what I can find.