One of my biggest pet peeves with backpacking is the sheer volume of Ziploc bags (and plastic food packaging in general) that we as backpackers depend on. It surprises me that outdoor adventurers are not more progressive in figuring out ways to eliminate non-biodegradable waste from their preferred activity.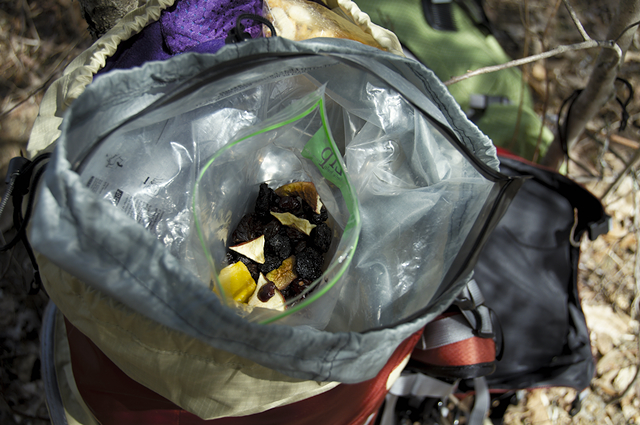 I can't argue with the benefits of plastic packaging. It's waterproof, lightweight, (theoretically) food-safe, inexpensive, and makes it very easy to stay organized. Ziplocs are easy, it's the path of least resistance.
We recently returned from a four-day backpacking trip. As is the norm for us, we made almost all of the food ourselves. When it came to figuring out how to package it all up, I wasn't too thrilled with how the numbers looked.
Let's do the Ziploc math: If every snack requires one Ziploc bag and each person has four snacks per day and we have five people, that would amount to twenty bags per day (4x5=20). Then, if you organize each person's snacks for every day in another Ziploc (ie: a larger ziploc with 4 little snack bags in it), that makes for another five bags per day bringing the total to twenty-five per day (20+5=25). Over a four-day trip that equates to one-hundred bags, just for snacks (25x4 =100).
That kind of plastic consumption just isn't cool. Even if you do wash and reuse. I had to search for an alternative.
In Ray Jardine's Trail Life, he claims to use brown paper (butchers paper, or brown paper bags) and masking tape. We have tried this a couple of times but haven't been completely satisfied with the results. Brown paper is kind of bulky and doesn't handle moisture or greasy foods real well.
This time I decided to try something different. We bought a roll of waxed paper and using some masking tape and a stapler, we were able to create custom sized packaging for all of our snack food. The work was a little tedious but once we got an assembly line going, it actually went pretty quick. The kids thought it was a lot of fun too - they pretended to be factory workers. Thank goodness they didn't organize and strike!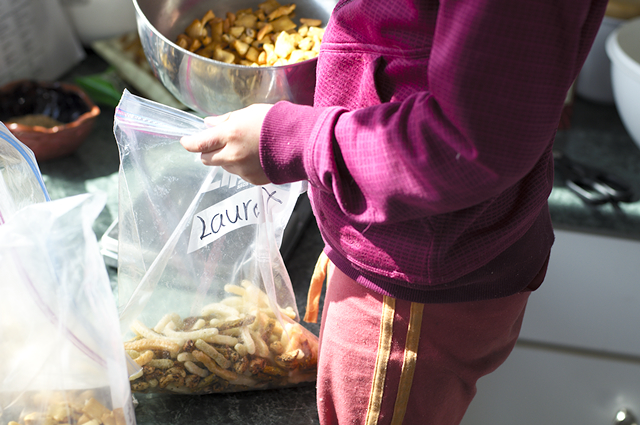 We still used some Ziplocs for organizing the snacks for each day, but instead of using one hundred for five people for four days, we managed to whittle it down to twenty (one per-person, per-day).
Overall, the homemade wax paper packaging system worked pretty well; better than the brown paper system ever did. The homemade Eatmore bars were the only significant problem: they contain a lot of nut butter and everything in the same bag started to get greasy after a few days. Other than that, all of the other foods we packed seemed to fare quite well.
I think we can do better next time. For starters, I want to purchase some pre-made wax-paper bags to help streamline the packaging process. The other thing I want to do is sew some small ultralight stuffsacks for organizing the daily food rations. At this point I don't see it being possible to completely eliminate all plastic bag use, but I still think there is a lot of room for improvement.
Are you a backpacker who is cutting back on plastic waste? We would love to hear what steps you are taking towards that end.