Last winter was our family's first winter on backcountry skis. Over the past few winters we have been exploring various means of backcountry travel in an effort to find the perfect winter outdoor activity. We tried snowshoeing, but we found the effort required to go any distance - especially for the kids - too exhausting. We also tried backcountry sledding. While this is a very fun activity it takes a tremendous effort to get the sleds up anything but a small hill. In both snowshoeing and sledding it wasn't so bad when the trail up was hardpack, but often times we found ourselves in places where the route up required going through waist deep powder. We needed a different strategy.
That was when we finally decided to invest in backcountry skiing. We wanted to travel longer distances over snow and have fun. Having moved close to the Chic-Chocs - we are within 1.5 hours drive of a plethora of beautiful backcountry ski places - we wanted to take advantage of all of the winter ski opportunities we could.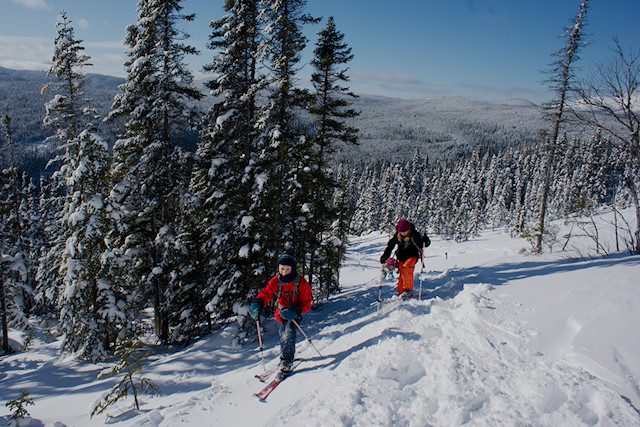 Backcountry skiing is more expensive than snowshoeing and backcountry sledding. If you want to have backcountry ski equipment that can handle the downhill as well (not just gentle off-trail cross country skiing), the prices go even higher. Since having fun is a big part of why we spend time outdoors, getting gear that could handle the downhill (i.e.: the fun part) was important to us. Outfitting five people had the potential to be expensive, so we had to get creative about doing this in an economic fashion. Renee and I were not quite so concerned about spending money to outfit her and I with equipment, as we would be able to keep it for years. Buying for our children on the other hand - who are just new to skiing, and growing like weeds - needed to be strategic.
Gear for the Kids
For the skis, we wanted to get something wider than cross-country skis with metal edges. In the category of wide metal edged backcountry skis, there is very little out there available for kids, new or used. And if you can find something it is generally not economical. Instead, I purchased three pairs of lightweight foam-cored alpine skis (Alpina Condors). The skis were new, but on closeout so I got them for a really good price - $100 for 3 pairs, shipping included. I chose foam-cored skis because they are generally lighter and have a softer flex than wood-cored skis making them much better suited for backcountry touring. The bonus of course was that because they were a downhill ski with a sidecut, they would obviously be well suited for downhill turns as well.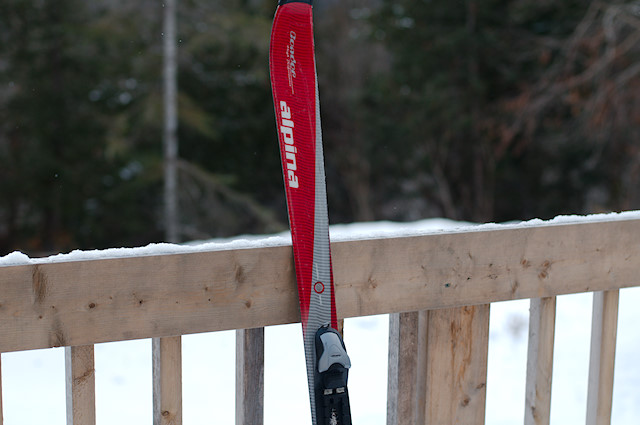 The camber of an alpine ski is not the same as that of a cross-country touring ski. I wasn't too concerned with this, as beautiful kick-and-glide was not really what we were going for. We just wanted relatively efficient snow travel for the kids in a variety of uphill and downhill conditions. To help with propelling the kids forward on low-slope/rolling terrain, I used my dremel to etch a fishscale pattern on to the middle third of the ski base. While not perfect, or exactly beautiful, it actually worked surprisingly well.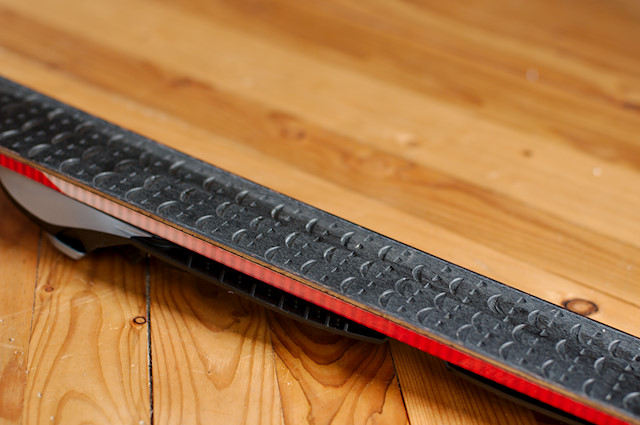 For steeper terrain, the homemade fishscales didn't work so well (nor do factory fish scales for that matter). For these conditions, skins were in order. Since we weren't planning on taking the kids up anything really steep, I decided we would start with kicker skins.
Our local outdoor store sells Black Diamond skins by the foot. Since our kids skis are quite short and narrow, I purchased 2 ft sections of 110 mm skin fabric. I then cut the 2 ft sections in half length-wise which made the width perfect for their skis. We didn't use any fancy straps or anything to hold them in place, the skin adhesive was enough. To prevent snow from jamming between the skin and the ski (which would cause the skin to fall off), we put a small bead of ski wax along the leading edge of the skin. This needs to be scraped off when you take off the skin, and re-applied when you put it back on - which can be a bit of a hassle - but it works and is inexpensive. The kicker-skins provided enough traction to get them up most slopes that we would feel comfortable skiing down with them.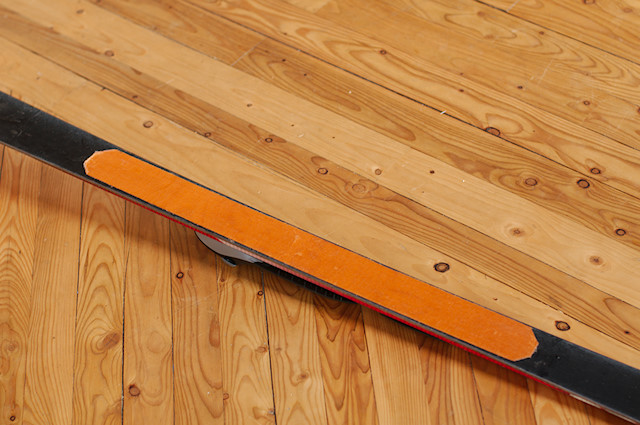 For boots and bindings, my goals were as follows: The system needed to offer enough control that the kids could experiment with basic telemark or parallel turns on the downhill, yet also be flexible enough that touring over rolling terrain would be workable as well. For this, we settled on NNN-BC bindings. The bindings are wide and solid, and when paired with a stiff NNN-BC boot, provides plenty of stiffness for a lightweight kid. Since used NNN-BC bindings couldn't be found, we purchased those new. For the boots, we were able to score some great deals on eBay. We also picked-up some Black Diamond leashes to go with the boots/bindings so that the gear could be used at our local ski area.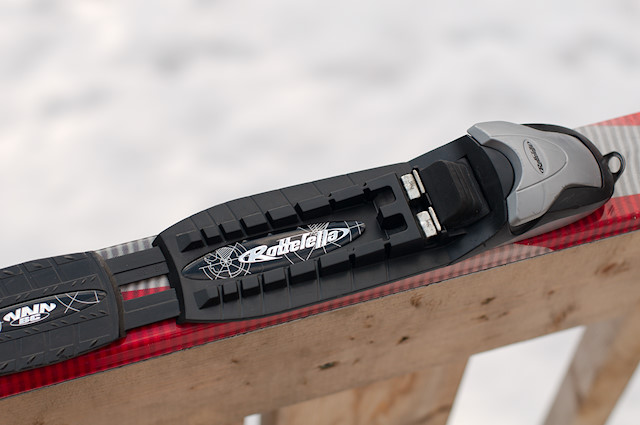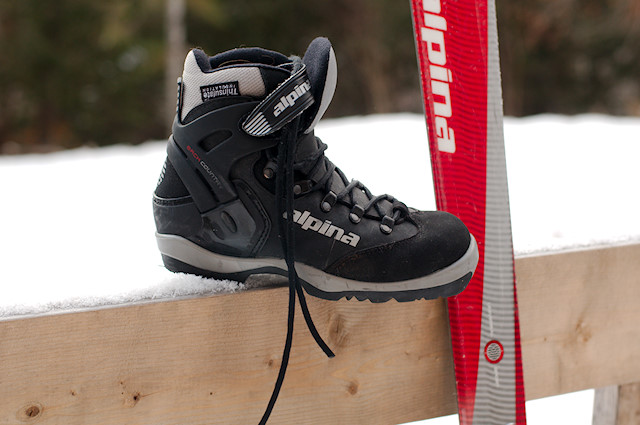 Last but not least is the poles. We purchased each kid a pair of the Black Diamond First Strike adjustable trekking poles - they come with snow baskets making them great for four-season use.
How Did it Work?
Overall, I would say that the system worked very well. The kids were able to ski flat/rolling terrain with relative ease. Our youngest had some problems going up some steeper hills as she hadn't quite mastered the herringbone, but that is to be expected. The gear also served them well enough to ski several days at our local ski area. The boot/binding combo provided enough stiffness that they could turn and maintain control. By the end of the season my son was able to handle blue runs and was starting to work on his telemark turns. Additionally, using the kicker skins we did a few days on steeper backcountry slopes. Again the gear proved to be adequate for those conditions as well.
While this system may not have been particularly ideal for any one of those scenarios, I think it was perfect for what we needed. We are not in the financial position to be able to afford a pair of alpine skis, cross-country skis, and backcountry skis for every family member. Yet we want to be able to get outdoors and enjoy all of those activities. I am happy to report that by getting a little creative, we were able to meet all of those goals while keeping costs reasonable.